Oman: The recently concluded Duqm Economic Forum proved to be a pivotal gathering of visionaries, industry leaders, and decision-makers in Duqm, Oman. Under the patronage of His Highness Sayyid Theyazin bin Haitham Al Said, the event was organized by the Public Authority for Special Economic Zones & Free Zones (OPAZ), and it showcased the dynamism and transformative potential of the Special Economic Zone at Duqm (SEZAD).
With over 400 participants and sponsorship from 17 esteemed domestic and international organizations, the two-day forum focused on sustainable economic development.

Gulf Leaders Circle conducted exclusive interviews with some of the key participants who attended the Duqm Economic Forum, seeking their valuable insights and perspectives on the event and its significance in shaping the future of the region.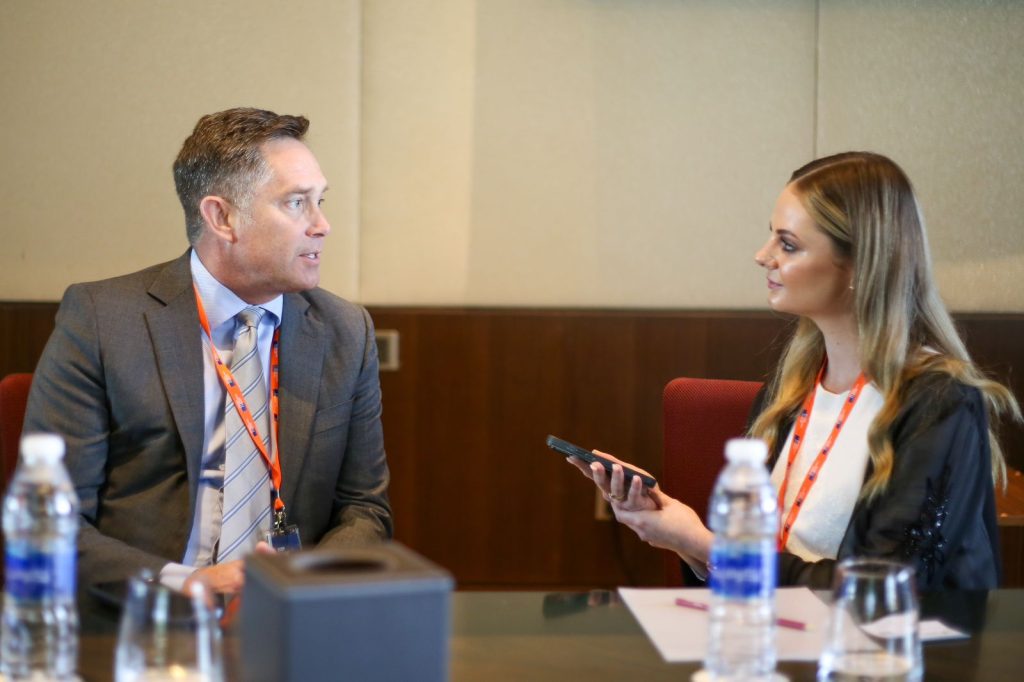 Ministry of Transport, Communications & Information Technology
H.E. Eng. Khamis Al Shamakhi, undersecretary of the Ministry of Transport, Communications & Information Technology, emphasized that the event, "plays a crucial role in building trust among investors. It demonstrates the government's commitment and enthusiasm, which are key factors for potential investors."
He further added, "Moreover, it aids the government, particularly its key agencies responsible for development, by allowing us to understand the challenges faced by investors, gather their input on policy matters, and identify necessary regulations."
Asyad Ports
Ahmed Al Abri, CEO of Asyad Ports, lauded the forum and expressed hopes for many such events in the future. Commenting on the race to establish partnerships for projects in SEZAD, he said, "I have successfully brought together key players from both the government and the private sector. International investors are also enthusiastic because Duqm is one of the top destinations for green energy production. The government is committed to providing the necessary framework, policies, and energy resources to make this a reality."
On Asyad Port's role, he stated, "We serve as both enablers and a platform for other logistics companies to join Duqm's present and future, making it a crucial hub for green energy production, supply, and industry."
Vulcan Green Steel
Vulcan Green Steel, a subsidiary of the Jindal Steel Group, is a leading industrial powerhouse with over 50 years of steelmaking expertise. The company is pioneering true GREEN STEEL production using hydrogen and renewable energy sources.
Remarking on the success of the forum, Mark Bula, Chief Executive Officer at Vulcan Green Steel, called it a "pivotal gathering of visionaries, industry leaders, and decision-makers." Discussing Vulcan Green Steel's role in the steel industry's future, Bula highlighted two key responsibilities.
"First, our global steel industry role is significant." He continued, "Secondly, we must attract other businesses to this growing region. With the focus on steel for consumer products and automotive assembly, we are ensuring a reliable supply of flat-rolled steel, supporting future growth."
Vale
Rogerio Nogueira, Global Business and Product Development Director at Vale lauded the forum's role in shaping Oman's Vision 2040, stating, "The discussions were excellent, helping us develop a comprehensive view across sectors and network with companies to collectively shape Oman's future."
Nogueira emphasized the benefits of Duqm's Special Economic Zone, which simplifies the setup process for companies like Nasdaq, stating, "It provides a one-stop shop experience, benefiting investors and newcomers to the country."
Regarding Vale's development as a mega hub in Duqm, Nogueira highlighted the significance of decarbonization and Oman's favourable conditions for foreign direct investments, stating, "Oman's efficient logistics, access to natural gas, and renewable energy make it an attractive destination for our industry."
Nafath Renewable Energy
Eng. Abdullah Al Saeedi, founding partner of Nafath Renewable Energy, emphasized the forum's role in connecting stakeholders in the sustainability ecosystem. He noted that "many projects and opportunities take off during this forum as people begin to connect." He also stressed the importance of cross-sector communication to track and align projects with Duqm's broader plan.
In terms of partnerships, Al Saeedi mentioned, "Since yesterday and today, we have already secured more than three opportunities to collaborate with different partners." His company, specializing in solar energy and ESG auditing, engaged in discussions and scheduled follow-up meetings, capitalizing on the opportunities presented at the event.