---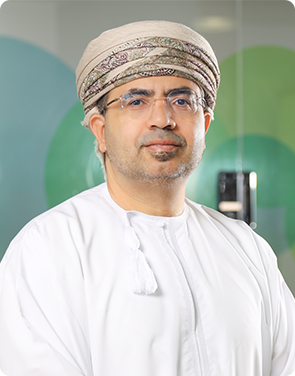 CEO Profile
Eng. Maqbool Al Wahaibi is the Chief Executive Officer of Oman Data Park (ODP), the first Managed & Cloud Service Provider in Oman.

He is part of the Executive Management and the Founding team member to establish ODP and has been instrumental in developing solutions tailored to address the banks, financial institutions, oil and gas sector, healthcare, government, education, and professional services sectors.

Eng. Maqbool has more than 20 years of diversified experience in ICT engineering, Software Development, Business Startups, and Leadership.

He holds a Master's Degree in Computer Software Engineering from the University of York, and an MBA from Strathclyde University, UK.

He was named Technology Person of the Year at the Annual AIWA Awards in 2018, which also gave Oman Data Park the Excellence for Global Cloud-Based Services in 2019.

ODP is currently serving around 600 corporates ranging from large to mid-sized and small companies.
---
Oman Data Park was established over 10 years ago offering different services like Cyber Security and Cloud Computing. You have been leading the company during these years of growth. How would you review the change in the demand for the services in the sector?
Maqbool Al-Wahaibi: We started in 2012 when there was hardly anybody talking about cloudification and real serious digital transformation. We were actually ahead of the game. We started by pushing the awareness in Oman to different sectors like – the financial sector, utility sector, and Oil and Gas. And, we talked to them about the cloud and how it would benefit them economically and technologically.
The country was very much eager to go hand-in-hand with other countries globally — to digitalize their services and hence the whole ecosystem has developed.
Consequently, the demand has changed over time. In 2012, companies were demanding co-location only, which was bringing their servers and storage devices, and placing them into our data centre. Over the years, they started demanding cloud. So, we transformed them into a national cloud. Then, the companies started demanding Software as a Service (SaaS). So, now we are also offering them software and security.
Oman is at the forefront of digitalization among the Middle East and North African countries. It makes sense from an economic perspective because it reduces the capital and the operational cost tremendously.
In the IT sector before Cloud, all companies needed data centres that were decentralized. They had to spend a lot of money on data centres– CapEx and OpEx and the IT department. With Cloud, you don't need to do that anymore. ODP is like the centralized power plant in the cloud era. Everybody shares the IT services out of a centralized cloud service provider. All cost elements are gone and they just pay-per-use basis, just like you pay the bills for the lights. That's how the cloud is selling itself.
There are three different clouds — local cloud service providers like ODP, which is locally in Oman. There are international cloud service providers like Google, Amazon, and IBM and then, there are hybrid models. The hybrid is where you put split part of your workload locally and part internationally. Local cloud service providers fulfill the data residency mandates. We call them the league. The league is the legislation.
It is important to keep data inside the country to maintain confidentiality- not all the data, only some data.

Maqbool Al Wahaibi
For instance, today you are using WhatsApp which is a cloud-based SaaS application. It's hosted somewhere. You click it and you use it. You don't care where it is, but it doesn't have that mandate of having to have it locally.
The countries think that some data must reside inside their boundaries because it would also have some elements of national security. And that's why national service provider like Oman Data Park exists because we satisfy that element of the 'data residency' mandate.
Your company has plans to become one of the top ten managed service providers in the world by 2025. What is your strategy to fulfill it and how the company stands out from the crowded marketplace?
Maqbool Al-Wahaibi: Today, ODP is actually the default national cloud service provider in Oman. We are serving around 400 plus corporates in Oman, covering the majority of the key sectors. We helped them avoid capital allocation for building a data centre and reduce their operating cost by 45%.
Moreover, we have the major Oil and Gas corporations in Oman as our clients. Today, we are serving multiple government entities. In the Telcom sector, ODP manages the majority of the sector services through its cloud and DC services.
Oman Data Park, throughout its journey, has built competitive knowledge and experiences that give us respect for serving international clients. Today, ODP provides services in East Africa. We provide the government of Zanzibar with a SaaS application (Software as a service) for e-procurement. Currently, we are also working towards having a data centre outside Oman to offer a localized cloud portfolio to our international clients. We are also negotiating with other countries in East Africa to provide our services.
In the Middle East, we have identified key partners and signed a memorandum of understanding (MoU) with them to provide our services in line with the local governance of the respective countries. International clients are looking forward to enriching their portfolios and they value and appreciate ODP's wealth of experience as the default national carrier in the cloud space of Oman which gives us the momentum to explore other markets.
What are your insights regarding new trends in the ICT sector in 2023 and how is ODP responding to them?
Maqbool Al-Wahaibi: We are in the Fourth Industrial Revolution with major components like the cloud, the Internet of Things, robotics, smart solutions, and AI. As these components evolve further, we will carry them into the Fifth Industrial Revolution in the near future and there will be greater focus on artificial intelligence.
The focus will be on digitalizing processes smartly. As an ICT sector, we are prepared to digitalize processes. Thereafter, we classify the workloads with the help of the cloud. They say, "Data is the next oil." Data coupled with AI can bring efficiency into the life of human beings by eliminating the need for repetitive work. The future will be focused on data and how it can be used globally.
In the future, the great reservoirs of data that international cloud service providers like Google will be interlinked with the database of local cloud service providers. By interconnecting these data lakes and linking them with AI we would be able to maximize their benefit and make human life safer, healthier, and more efficient.
AI is all about speeding up the predictability function. For instance, while driving a car, the human brain will require 5-10 seconds to predict whether a pedestrian is about to jump. AI can predict the same in five milliseconds. However, predictability with AI cannot work in isolation from the data. Well-maintained data together with AI can usher in the fifth industrial Revolution.
Nowadays, a lot of people are talking about ChatGPT, which can actually predict a lot of things. In a way it's good. However, something like this has to fall into a good legal framework, otherwise, it can be misused. For instance, you can ask ChatGPT how to rob a bank or maybe steal a car. The ICT community worldwide is actually working right now to develop a legal framework around it and create good boundaries.
The future is bright with a lot of innovative ICT solutions, and the focus will be on SaaS (software-as-a-service). The focus will be primarily on artificial intelligence.
In the future, cars will be autonomous and people won't necessarily own cars. They would just need an app to connect them with cars on-demand basis. We will not need drivers and driving licenses anymore because these cars will function like trains today.
Human beings will be more efficient and will have better healthcare. AI will help physicians in performing surgeries remotely. For instance, suppose there is an operation room in Seattle in the United States, the doctor would be able to operate from Muscat. You don't have to fly the doctor all the way to Seattle. They can use robotic arms to perform surgery on the patient remotely. This is how powerful we, as human beings, are going to be because we can do anything from anywhere.
This is a good utilization of the talent capacity. For instance, a lot of the well drilling in Oil and Gas will happen remotely and autonomously.
The world will change. Unlike a phone or a video call, people will actually be able to be physically present in desired locations with the use of innovations in Holographic technology. These kinds of initiatives will evolve and grow stronger over the years.