---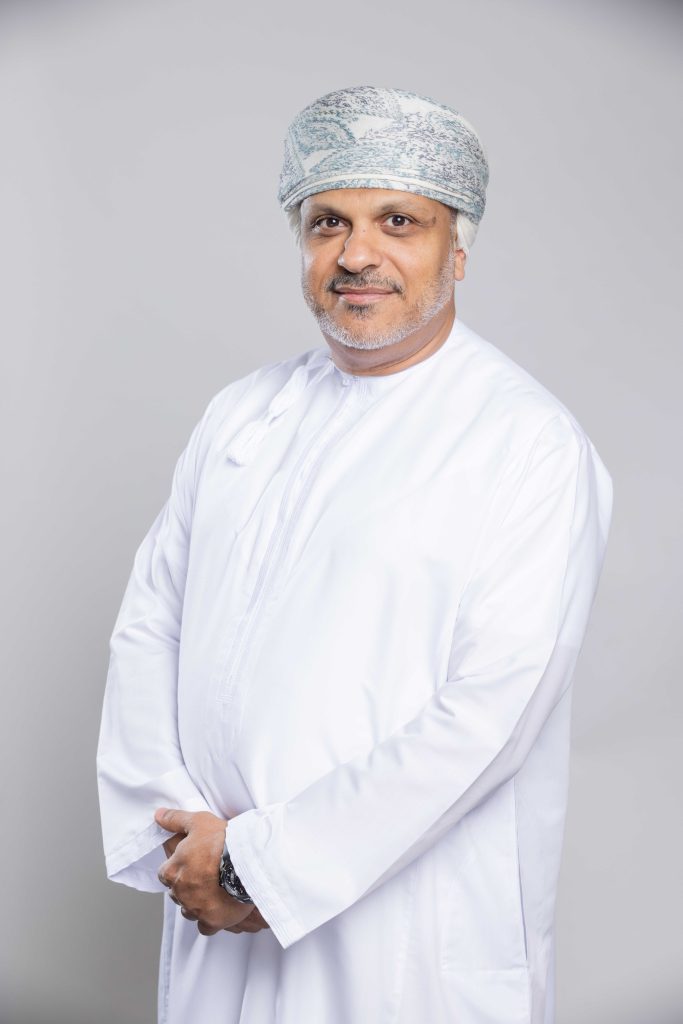 CEO Profile
Essam Al Sheibany is the Vice President of Sustainability at Asyad Group, Oman's flagship logistics and supply chain group, offering end-to-end solutions from ports, free zones, maritime shipping, and last-mile express delivery.

As a Sustainability VP, Al Sheibany plays a key role in building and maintaining all the Environmental, Social and Governance (ESG) activities within the group to position Asyad among the top 10 integrated logistics companies in the world.

Al Sheibany is also driving the Decarbonization initiatives and facilitating the Green Hydrogen projects initiatives within the group. Previously, he was Group VP for QHSSE where he was taking care of the health and safety of employees, contractors, and customers, and protecting the environment. Recently, the scope of Sustainability Development initiatives within the Group was added to his role.

Al Sheibany was a member of several local and international bodies and executive committees looking into Sustainability and ESG-related topics. He led the implementation of several operational projects in Oman and internationally.

As an engineer, Energy Expert, Climate Change activist, ESG champion and green business developer, he has more than 30 years of experience in Oil and Gas, Project Management, HSE and many areas mainly centered on Operational Excellence.

He has B.Sc. in Engineering Management from Oman and his 2 master's degrees from the UK in Operations Management and Advanced Process Engineering.
---
In 2021, you were appointed as the Group VP of Sustainability, bringing with you over 30 years of experience in the Oil and Gas sector and being a member of various local and international bodies, such as the National Petroleum Council, the main Committee of Health and Safety in Oman, and the Secretary-General for the General Trade Union of Oman. Could you review your most significant decisions and achievements over the past years and how you are implementing your vision in the Asyad Group?
Essam Al Sheibany: My extensive experience helps me prioritize the key areas when designing a sustainability plan. The first step is to identify the materiality topics that are essential for the sustainability and functioning of the system. These topics are chosen by considering the global sustainable development goals, market requirements, regional business connections, and stakeholder importance.
They form the basis of our sustainability plan. In this case, we have selected 15 topics, which have been organized into five pillars. Drawing on my experience and background, I have been able to identify these topics and lead the way for our business.
The information about the pillars mentioned above is public. The first pillar focuses on environmental leadership. We aim to be at the forefront in terms of environmental stewardship. Specifically, we prioritize decarbonization, waste management, and biodiversity. Biodiversity is especially relevant to us as we operate shipping lines. This falls under the E of the ESG framework.
"we strive to create thriving workplaces within our businesses by prioritizing employee well-being, engagement, and participation"

Essam Al Sheibany
Moving on to the S pillar, we have two areas of focus. Firstly, we strive to create thriving workplaces within our businesses by prioritizing employee well-being, engagement, and participation. Secondly, we emphasize community engagement as part of our social responsibility beyond the business. These are the two components of the S pillar.
Lastly, in the G pillar, our main focus is on robust procurement practices and being a responsible business. This includes implementing codes of conduct and ethics, as well as supporting small businesses and SMEs. These are the selected areas that we will be focusing on for the next five years
You mentioned the focus on decarbonization, to achieve net zero targets by 2050. Additionally, Asyad is investing in R&D to leverage big data and emerging technologies for sustainable solutions, ensuring a resilient global supply chain. What is the strategy behind these projects, and what challenges has the Group encountered so far?
Essam Al Sheibany: As a diversified company, we have businesses that can easily transition to net zero, some that fall in the medium range, and others that are deemed hard to abate. The hard-to-abate businesses, such as shipping lines, face the challenge of requiring large amounts of fuel, and in the future, cleaner fuel options. This cleaner fuel needs to be accessible across our global business system. We have three main focus areas: the easy, medium, and hard-to-abate sectors. We prioritize all of them. The challenge lies in executing these projects and securing funding.
Some of our businesses are public companies, serving the public in transportation and postal services, with narrow profit margins. Asking them to invest in expensive projects requires a strong drive for decarbonization.
However, the 2050 deadline allows us time to prioritize and implement projects on a smaller scale first. We have a roadmap for our decarbonization plan, which is structured around three pillars. The first pillar involves pilot projects that we are currently undertaking until 2024. Simultaneously, we are exploring sector-specific actions. While there is a 2050 target, there is no detailed action plan with intermediate milestones for 2030 and 2040. We are working on formulating these plans and aligning them with our own roadmap.
"Operational efficiency is key throughout the program."

Essam Al Sheibany
Additionally, we focus on sectorial benchmarking to determine our progress. Another aspect we consider is green financing. Attracting green financing can support our efforts. As members of organizations like the Climate Change FDI and the WFDF, we actively participate in aligning our systems and businesses to attract international green funding. We have already secured green financing for some of our ships, and with our ESG framework, we anticipate attracting more funding. However, it is crucial to find the right projects that align with our goals.
Our second approach is to scale up. We have a plan in place to utilize green financing and scale up our efforts to meet the net zero target. Operational efficiency is a fundamental consideration throughout these endeavours. We strive to avoid disruptions to our operations and seek to enhance efficiency for our business. For example, our ships can cruise the world using cleaner fuels without compromising their efficiency. The same principle applies to buses, last-mile delivery, and postal services. Operational efficiency is key throughout the program.
In a podcast, you mentioned that the pandemic acted as a catalyst for governance and provided a significant opportunity to strengthen the corporate structure. How did Asyad Group respond to the challenges posed by the pandemic, and what lessons have been learned for the future?
Essam Al Sheibany: Given our operational involvement in ports and shipping lines, we had experience in ensuring the continuity of our business operations. However, we always say that this is on an ad hoc basis. We recognized the need to address potential disruptions to our business continuity more comprehensively. As a result, we developed business continuity management systems that encompass various areas, including future planning and diversification. We take pride in being one of the leading companies in Oman to have implemented such comprehensive systems.
Currently, we are working towards obtaining ISO certification, which would make us the first group of companies in Oman to be certified in business continuity. This ongoing learning process has allowed us to build on the maturity and structure of our systems. By documenting and formalizing our processes, and getting certifications, we instil confidence in our businesses, ensuring they understand their mandates and responsibilities.
The pandemic was the starting point for our initiative of having a structured and documented business approach. We have continued to build upon our successes, aiming for even greater structure and discipline.
Earlier, you mentioned the importance of social responsibility as one of the pillars of the Vision 2040 of Oman, which the group is following diligently. In addition to various sustainability projects, Asyad Group is actively contributing to social development. Could you elaborate on the significance of social responsibility for the group and highlight the projects it is currently involved in?
Essam Al Sheibany: We are working on different levels to educate the local businesses that they need to have an impact on the community. We recognize the need to ensure that our social activities have a meaningful impact on the community. Merely being socially active is not enough if it doesn't generate positive outcomes. So, we are trying to make our social activities more impactful. Therefore, we have implemented an evaluation mechanism to measure the social impact of our projects.
"We must support SMEs to thrive and grow since as the businesses grow, more job opportunities will be created which is a pressing issue in Oman."

Essam Al Sheibany
Before engaging in any project and even after its implementation, we assess the areas that we aim to address and how we can make a more significant difference. While these programs are still under development, they primarily focus on environmental impact, social communities, and education. Enhancing the quality of education is a key aspect for us, as we align with the Sustainable Development Goals. Environmental awareness is another critical area where we believe the private sector must take responsibility and create awareness about topics such as net zero and the impact of businesses on the environment and ESG.
Recently, I gave a lecture to MBA students, emphasizing the importance of their understanding the delicate details of these issues, as they will become decision-makers in the future. They need to understand all details about the impact of businesses on the environment.
The last pillars of community support and the growth of SMEs are essential. We must support these companies to thrive and grow since as the businesses grow, more job opportunities will be created which is a pressing issue in Oman.
Asyad Group is renowned for its productive partnerships with local and global companies, aiming to contribute to Oman's development as a global logistics hub. In terms of business opportunities and growth ambitions, what prospects exist for new investors and partners within your group? Furthermore, which international markets are currently of interest to the group?
Essam Al Sheibany: Our company is growing globally and we aspire to become one of the top ten global logistics companies. And, we are actively seeking opportunities for mergers and acquisitions (M&A) across the EMEA region. Our focus is not limited to a specific area, but rather we are open to seizing opportunities wherever they arise to expand globally. While we understand the fierce competition in the region, we aim to maintain our performance and expand regionally. So, we are exploring various markets, including Asia, Europe, and even considering the American market, despite its distance.
Our goal is to grow globally, and we are adaptable to opportunities worldwide. We have established international standards and systems for our shipping lines, which operate in the United States, Europe, and Asia. These standards can be replicated across other businesses within our group.
"we are open to expanding anywhere on a global scale"

Essam Al Sheibany
While certain businesses such as public transport and postal services remain local, Asyad Express allows us to ship and transport goods globally, connecting Oman to different parts of the world. We have a strong presence and partnerships in the African market, particularly in Tanzania, due to its growing population and demand for higher-standard services. Nevertheless, we are not limited to this region alone, as we are open to expanding anywhere on a global scale.