---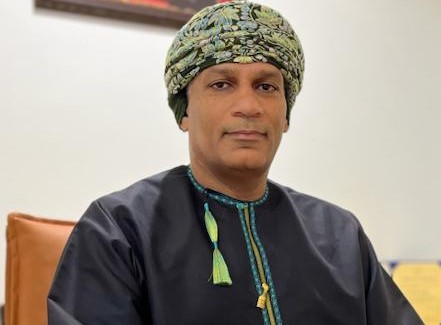 CEO Profile
Khuwailid Fatallah Al Hinai is the founder of Dunes Middle East. He brings a wealth of experience from his previous roles as the Assistant General Manager of a prominent mining company in Oman and an expert advisor on health, safety, and environment for a dominant oil firm.

Since 1998, he has been actively involved in advising numerous organizations in Oman on HSE and security matters. Driven by his passion for IT and digital technology, Khuwailid established Dunes Middle East.

Aligning with the Oman Vision 2040, his company assists leading firms in the Sultanate by providing satellite-based voice and data connection services, even in the most remote locations.
---
As the founder of Dunes Middle East Company and with your experience in the IT and Telecom sector, how has your background influenced your vision for the company? And could you share the story behind the creation of Dunes Middle East?
Khuwailid Al Hinai: Dunes Middle East initially started by providing subcontracting services for large telecom companies, specifically in the field of fiber optics. Our role involved pulling and connecting fibers in different sectors and locations. However, when Oman announced its plan to launch the first Omani satellite in 2025 through a government-owned company, we saw an opportunity to expand into the satellite division. We wanted to be part of this significant milestone for Oman, so we decided to venture into the satellite industry.
our services will transition from the satellite we currently use to the Omani satellite.

Khuwailid Al Hinai
Our journey into the satellite division began by establishing a partnership with the government-owned company responsible for the satellite launch. This collaboration marked our entry into the industry. Currently, we are still working closely with them, eagerly awaiting the launch of the first Omani satellite. Once it is operational, our services will transition from the satellite we currently use to the Omani satellite.
How far along are you in terms of the launch process?
Khuwailid Al Hinai: According to our plans, the launch is scheduled for 2025, specifically in the early or mid part of the year.
What are the plans for operating in different countries, specifically in Saudi Arabia? Could you explain the differences you've noticed when operating in various countries, particularly Oman, UAE, KSA, and Qatar?
Khuwailid Al Hinai: Having operations in different locations has allowed us to build strong relationships with neighboring countries. We learn from their experiences and gain valuable knowledge that we can implement in Oman. It's about expanding our knowledge and fostering friendships with our neighbors.
Considering the increasing competitiveness of the market each year, that is crucial. What do you believe is the key to succeeding in the international region?
Khuwailid Al Hinai: Collaborating with international companies plays a vital role in our expansion strategy. By partnering with such companies, we can transform Dunes into an international entity rather than solely an Omani company. One notable example of this is the Memorandum of Understanding we signed with Space Communication Technology (STC) in 2020.
The idea behind this initiative was to contribute to the growth and development of the local satellite market. How did Dunes Middle East acquire the cluster telecom license, and what capabilities does it possess to deliver on this goal?
Khuwailid Al Hinai: Our journey began with being the first company to implement the Space Communication Technologies (STC) system in the oil and gas industry. We experienced a successful start and are currently continuing our operations. The strong support we received from STC played a significant role in our market expansion. It enabled us to provide the best services compared to our competitors.
The strong support we received from STC played a significant role in our market expansion

Khuwailid Al Hinai
Your company is all about technology so may you please disclose how the latest technology has been integrated into Dunes Middle East?
Khuwailid Al Hinai: We are working, very closely, with integrating companies where we integrate systems that can help and provide better services. Especially in the satellite parts. So, for the communication part, you need to have some different types of integrated systems that can help give communication with the other locations. So, we currently have some good companies that are supporting us as well as good engineers. Looking forward, we have some more companies that we are going to collaborate with who will help us to provide better systems in the satellite industry.
Corporate partnerships within the region are vital. As this interview will be featured across the GCC regions, especially with our collaboration in Saudi Arabia, how important is it for you to attract investors or new partners in the Middle East? And what steps are you taking to promote your company in the region?
Khuwailid Al Hinai: Having partnerships on a global scale is instrumental in our expansion and market growth. Currently, we are actively working with international companies, as I mentioned earlier, and engaging in collaborative efforts. While we haven't finalized the agreements yet, we have signed non-disclosure agreements with one of the world's largest satellite companies that will be partnering with us. We are optimistic that this partnership will bring us success.
What message do you have for Omani companies that are seeking to expand? What recommendations would you give them?
Khuwailid Al Hinai: My recommendation for them is to always look ahead and never hesitate. Embrace the new market without fear. Challenges will inevitably arise, but it is through overcoming these challenges that we find success.