---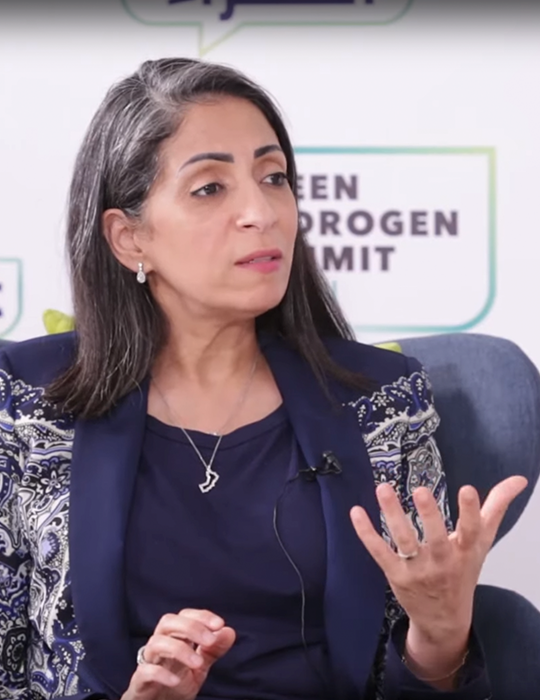 CEO Profile
OQ is an integrated energy company based out of Oman. A global entity, OQ operates in 17 countries with a workforce of over 5000 employees.

OQ spans the entire value chain with respect to energy. They deal with upstream and downstream oil and gas businesses in addition to trading and marketing.
---
What is the focus of OQ 's strategy at present?
Najla Jamali: In 2022, we revised our strategy due to changes brought about by COVID, and oil prices. We came out with a strategy to be an 'energy transition enabler.' That means we are across from the hydrocarbon chain and then also into the alternative energy space. We are present in alternative energy that encompasses both low-carbon molecules as an energy vector, but also renewables as an energy vector. And, obviously, renewables are needed in order to supply power to the low-carbon molecules, which is green hydrogen.
The bigger umbrella is alternative energy and then underneath it are different energy vectors.
Renewables are a type of alternative energy like wind, solar, and hydro energy.

Najla Jamali
What is OQ's position in specifically Oman's hydrogen story and how does it play its role in this energy transition?
Najla Jamali: At present in Oman, there is the hydrogen trinity. The Ministry of Energy is the regulator. Hydrogen Oman is the orchestrator, responsible for organizing the concessions and awarding them. OQ is the national champion within hydrogen, and it is developing the developer's arm. We all complement each other, but we each have our separate non-overlapping roles.
In economies like Oman, which have been traditionally very hydrocarbon-based, people tend to see the energy transition as a binary. They look at it as something that is mutually exclusive. However, it is not an either-or story.
We need to look at energy transition from the point of view of energy security as a whole. We must approach it from the perspective of being responsible citizens and still ensuring that there is energy being provided for the world's growth. Energy transition comes in the context of climate change. We ensure energy security by being responsible in the way that we use, develop, and produce energy. Then, the energy mix changes. It doesn't mean that we stop hydrocarbons, but perhaps the way that we produce these hydrocarbons, oil, and gas, we do it more efficiently in terms of your power use during production, and we do it in a very sustainable manner.
Alternatives will start to grow in terms of renewables, in terms of green hydrogen, and your oil and gas may shrink, but I think overall our energy requirements will grow. Going forward in Oman at least, we will still be producing hydrocarbons, just changing the method and we will be growing this whole new other industry.
Please tell us about FID.
Najla Jamali: It is a final investment decision. So, all our projects basically go through a stage gate review and they go through a process which is typically what most projects that
get financed go through. It takes us to a final investment decision at that point. That's where we have many things in place.
And then, the board or let's say the companies or the shareholders or the investors take a decision whether or not to now proceed to construct. Basically, the proceeding of the project FID entails that we already have an offtake agreement in place, engineering in place, feasibility design, and engineering design, we have secured your financing with the banks. FDI trickles down to affect us as citizens within jobs, research into partnerships, projects, and everything like that, which is all great news.
Because it's a nascent sector, the expertise that we have honed for the last 50 years within the oil and gas sector is easily reskilled. They are easily transferable into this. The jobs created are not just the jobs that we create within these projects and developments. But then there is all this other ancillary and this kind of ecosystem around this industry that's going to create that's going to have a multiplier effect and create many jobs and many new industries. We may not want to stop at hydrogen. Maybe we want to also look at it as a country. How do we onshore green steel here? How do we onshore many of the uses this hydrogen is going to? Why doesn't that come here and get developed and produced and manufactured here in Oman next door to the production?
We can see now that the ecosystem is just growing.

Najla Jamali
OQ has a number of projects like this. And then, a number of projects are going to come into Oman, hopefully within the announcements of the bid rounds and concessions. This creates a volume and scale that then allows us to onshore assembly. Maybe onshore some of the manufacturing, because then we have a scale that allows us to do that. We can see now that the ecosystem is just growing.
How do you set up a future workforce and knowledge development?
Najla Jamali: We should focus on setting up this whole new industry and this whole new ecosystem that ecosystem will require many people. And then how do we all play a role, through the projects that we have? Also, through ICD requirements that are coming not just from the government, but also us putting ICD requirements where we ensure not just unemployment, but also build a solid value chain.
We need to also focus on getting lucrative revenues into Oman. And that is by ensuring that we're in the full value chain as a country. And how do we do that? We are today a national hopefully a national champion for this. So, we are in development. We have an arm that does the trading, so we are in the trading of the product. Moreover, we have sister companies or groups that are in the shipping. We can embed ourselves directly into that value chain alongside in-country value elements.
And in combination, we should be able to maximize domestically great for the economy and be a role model to actually show people the way over here.
When can we see hydrogen produced in Oman?
Najla Jamali: We expect FID, sometime in 2024, and that would mean we construct we'll have something operational sometime before the end of the decade, somewhere around 2028. But until then, what we'll see is expecting an increase in renewables. We already see within the country a number of renewables, solar plants, and wind farms.
And, as we're also looking to become a national champion within the renewable area. We'll be looking to decarbonize our own some of our own assets by switching them out to renewable energy as well for other customers.