---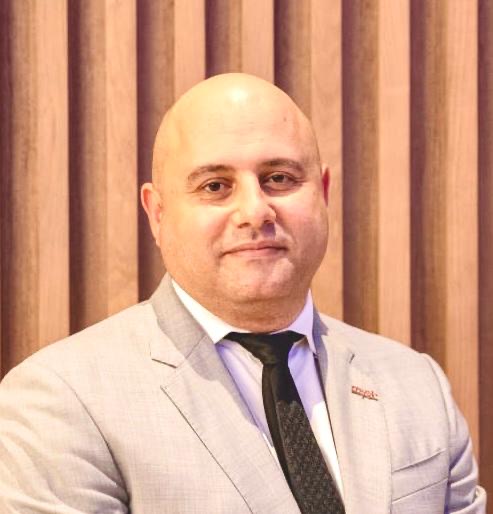 Profile
With over 20 years of international experience in the hospitality industry, Ehab Mourad is a passionate and dedicated hotelier specializing in opening and operating upscale and luxury hotels, resorts, and Nile cruises, creating and implementing profitable guest-centric experiences, processes, and systems.

He holds an MBA from Ecole hôtelière de Lausanne, Switzerland, and multiple certificates from Cornell University in hospitality, food service, and revenue management.

Currently, he works in the capacity of Hotel General Manager at Mysk Al Mouj, Oman's leading lifestyle hotel. Under his leadership, the hotel won several trophies as Oman's leading lifestyle hotel and travellers' choice awards and was consistently positioned in the top 10 hotels in Muscat.


---
Can you provide an overview of Mysk Al Mouj and its amenities?
Ehab Mourad: Mysk Al Mouj is an upscale property in Muscat, Oman, offering a contemporary and handcrafted Arabian lifestyle experience. Our well-appointed 193 guest rooms and suites feature modern amenities and stunning views. Guests can indulge in exceptional dining options showcasing international and local cuisines. With a state-of-the-art fitness center, rooftop swimming pool, massage facilities, and extensive event facilities, we provide relaxation, wellness, and seamless event experiences.
Could you review the growth strategies that are applied to ensure the growth of the business and what are the future plans for the establishment in terms of partnerships and expansion?
Ehab Mourad: At Mysk Al Mouj our growth strategies include market penetration, customer retention, strategic partnerships, and expansion. We aim to attract new customers through targeted marketing efforts while ensuring guest satisfaction and loyalty. By forging partnerships with local businesses and tourism organizations, we enhance our offerings and access new markets. Additionally, we plan to explore expansion opportunities and diversify our offerings to cater to a wider range of guests.
We plan to explore expansion opportunities and diversify our offerings to cater to a wider range of guests.

Ehab Murad
How would you describe the hotel's target market and the type of guests who typically stay here?
Ehab Mourad: At Mysk, our target market includes diverse leisure and business travellers seeking upscale and immersive experiences. Our guests appreciate personalized service, convenience, and access to local attractions. We cater to individuals who value relaxation, cultural, watersports activities, exploration, and memorable experiences. Additionally, we attract eco-conscious travellers who appreciate our commitment to sustainability and responsible practices.
What sets your hotel apart from others in the area? How would you describe the hotel's location and its proximity to popular attractions or transportation options?
Ehab Mourad: Our property distinguishes itself with its blend of contemporary and personalized service. Our prime location in the vibrant Al Mouj community provides convenient access to popular attractions, including the scenic Al Mouj Marina and Golf. Guests can easily explore Muscat's cultural landmarks, shopping centers, and business districts. With proximity to Muscat International Airport and transportation services, we ensure seamless arrivals and departures for our guests, enhancing their overall experience.
Does the hotel offer any loyalty or rewards programs for frequent guests?
Ehab Mourad: We are proud to be a part of Global Hotel Alliance which brings together a unique collection of independent hospitality brands for GHA DISCOVERY, a multi-brand loyalty program. GHA represents a collection of 40 brands with 800 hotels spread over 100 countries serving more than 20 million elite members. Through the Mysk Discovery loyalty program, members earn and spend DISCOVERY Dollars (D$) across 800 hotels, an exclusive rewards currency. They also enjoy exclusive experiences curated by each hotel and have access to properties close to home, without a stay, through GHA live local offers. Through its 'Live Local' concept, it offers access to hotels' facilities and events in a nearby proximity.