---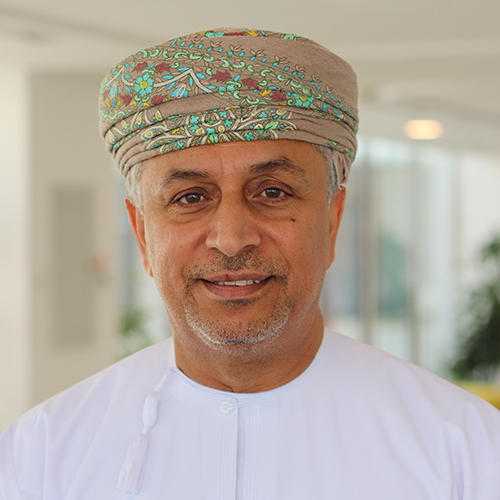 Profile
Abdullah Al Hashimi is the Managing Director of Marafiq, Chairman of Oman Sustainable Water Solutions, and a board member of Majis Industrial Services Company.

Prior to this, he was a projects general manager at Oman Wastewater Company (Haya Water), where he developed and managed the project department from its early inception to its day-to-day operations.

Al Hashimi is a civil engineer holding a master's degree in construction management.
---
How have your past roles in organizations like Oman Wastewater Company and PDO informed your approach to project development and management within the public sector?
Abdullah Al Hashimi: The utility sector always plays a pivotal role in the growth and development of cities, especially in dynamic regions such as ours. Utility companies face a range of challenges from dealing with a country's unique terrain and geography, to scattered population distribution adding further complexity.
My tenure at PDO shaped my approach to major projects and collaborative efforts with multinational teams. It has enriched my understanding of international procedures and systems and this was evident in a flagship project at Shell where we dealt with water and wastewater and a water scheme for Muscat. It is aimed at bolstering the premier city's living standard and resonates with Marafiq's mission in Duqm, which is not just about utility provision, but about shaping the future of SEZAD and bolstering Oman's sustainable progress.
This project, focused on infrastructure development, provided valuable lessons, especially in executing a utility project in a mature city with existing roads, buildings, and utilities. It also highlighted the complexities of dealing with permitting requirements and interfaces with various government agencies and other stakeholders.
We recognized the need for a one-stop shop for utility services in industrial zones like Sohar and Salalah

Abdullah Al Hashimi
Drawing from this experience, we explored similar centralized utility models from Europe and Asia to develop a new concept in Oman. We recognized the need for a one-stop shop for utility services in industrial zones like Sohar and Salalah. This led us to create a business model and operating framework for centralized utilities. We engaged with zone authorities to promote this concept, resulting in exclusivity agreements that granted us the right to invest, build economies of scale, and provide competitive utilities to industries.
How do you think that now being the first centralized utilities provider in Oman impacts the industrial landscape of the sector?
Abdullah Al Hashimi: Our pioneering role in Oman has raised the bar. This is a highly challenging responsibility and balancing investments with the growth trajectory of zones is paramount.
As Marafiq continues to scale, we are not only amplifying the infrastructure of SEZAD but also catalyzing its diverse industrial expanse. Our practices such as transitioning to Natural Gas, underscore our commitment to sustainability, which aligns with Oman Vision 2040.
Could you share some of the key preparations and expectations regarding your company's role in supplying power and water to different operations in the future?
Abdullah Al Hashimi: At present, Marafiq's most ambitious project is our water and electricity venture with OQ8, particularly in powering the biggest refinery in the country. This project is already operational, with out company successfully providing electricity and water services.
We generate, distribute, and supply drinking water to Duqm Special Economic Zone, catering to both industrial facilities and the local population residing in Duqm

Abdullah Al Hashimi
Another significant project that has been successfully delivered is the supply of drinking water. We generate, distribute, and supply drinking water to Duqm Special Economic Zone, catering to both industrial facilities and the local population residing in Duqm.
Moreover, we have established strong partnerships with the zone authorities, specifically the zone authority, and other relevant entities. We have also established MOUs with several prominent potential investors and industries within the zone. The primary industries we aim to serve include steel and cement, and we are actively exploring opportunities to support future petrochemical projects within the zone.
Could you elaborate on how the transition from diesel power plants to gas turbines has impacted the environmental footprint of your company?
Abdullah Al Hashimi: Sustainability is not a choice – it is an obligation. We explored various avenues to provide our services more efficiently and cost-effectively.
We assessed the existing facilities within the zone and how we could enhance their efficiency and sustainability. The zone was previously served by a third-party diesel power plant, and we proposed an alternative solution. After negotiations, we successfully replaced the diesel power plant with a gas-fired power plant, resulting in several significant benefits.
Firstly, there was a substantial reduction in the cost of electricity generation. Additionally, the transition had a notable impact on the environment by reducing emissions and our carbon footprint. To provide some perspective, this shift is equivalent to removing 20,000 cars worth of CO2 emissions from the road, a tangible contribution to cleaner air.
Furthermore, the transition reduced noise pollution, controlled smoke emissions, and decreased other harmful gas emissions. It is worth noting that when we took over the role of supplying drinking water in the zone, we also assessed the existing assets. We examined water efficiency, network conditions, and storage facilities. Based on our findings, we developed a plan to address these issues.
Recently, we engaged an international consultant to evaluate what is technically known as "non-revenue water," which represents the volume of water lost from the system. We benchmarked ourselves against international utility providers. We were recently honoured with the award for the best-performing utility company in terms of reducing losses in the system.
Our commitment to sustainability remains unwavering

Abdullah Al Hashimi
To provide some context, the average losses in water systems in various countries typically range from 15% to 35%. We achieved a remarkable 9.1% loss rate. When compared to other regions in Oman and the broader region, we are significantly ahead in terms of reducing water loss.
Moving forward, we are introducing technology to remotely monitor utilities, reducing the need for transportation and using digital platforms to enhance our operations. Our commitment to sustainability remains unwavering.
Marafiq's partnerships and agreements, particularly with entities like Tanweer, seem crucial for future prospects. How do you envision these partnerships and agreements influencing your company's growth and market presence in the coming years?
Abdullah Al Hashimi: Partnerships and agreements are integral to our company's growth strategy. Marafiq is a joint venture between OQ, Oman's Energy Company, and Gulf Energy Development from Thailand. This collaboration represents a fusion of local and international expertise, and it is noteworthy that we have foreign direct investment in the company. The involvement of an international utility company like Gulf Energy Development adds substantial value to our company's structure.
Our Power Purchase Agreement (PPA) with Tanweer is a significant milestone that showcases our capability not only to serve the zone but also to gain the confidence of well-established companies like Tanweer, a major player in the electricity sector. This agreement has brought numerous benefits to both Marafiq and Tanweer. It demonstrates collaboration, provides solutions, reduces the cost of electricity generation, and furthers our commitment to sustainability.
We are optimistic and eagerly anticipate forging similar agreements with other prominent industry players. We have already signed several MOUs, and some of these are poised to evolve into binding term sheets and eventually into agreements, potentially as early as next year. These agreements will undoubtedly contribute to our company's growth and solidify our market presence in the coming years.