---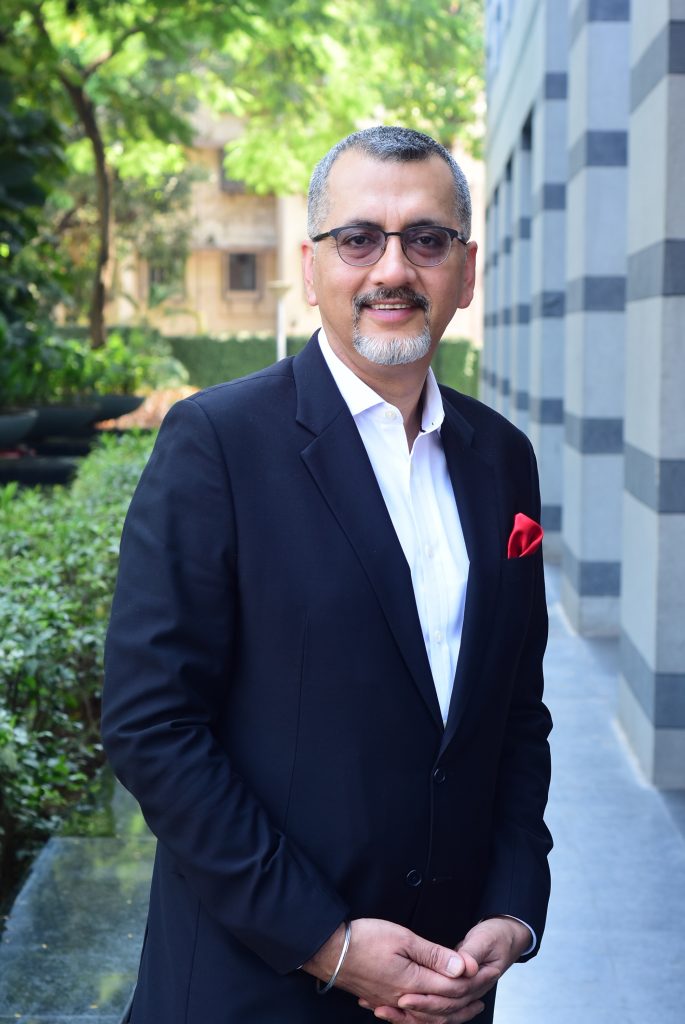 CEO Profile
Puneet Singh is the General Manager of Alila Jabal Akdhar in the Sultanate of Oman.

A seasoned hotelier, Puneet has managed international luxury hotels in 10 countries across four continents, over the last 30 years. He has worked with brands like Kempinski, Le Meridien, and Grand Hyatt.

His experience spans exotic island resorts, golf resorts, city resorts, and business hotels. His entrepreneurial approach to hotel management has brought him success in multiple geographies.

He brings this approach, along with creativity and a thirst for excellence to Oman, with the goal of growing Alila's stature even further among the luxury properties in the region.
---
As the general manager of Alila, Jabal Akhdar, may you please provide an overview of the amenities of your hotel?
Puneet Singh: Our hotel is located approximately two hours and 15 minutes from Muscat airport, at an altitude of around 1900m, nearly 2000m. We are about 50km away from the Birkat Almas checkpoint, where the mountain climb begins. The property consists of 80 to 85 keys, including villas and suites. We have two two-bedroom villas as individual components, and the rest of the resort is built around a V-shaped cliff. This unique layout allows every cluster of rooms to offer a breathtaking view of the canyon. Each of our rooms has a balcony or patio, and we also have family rooms with two bedrooms, including bunk beds for kids.
"We take pride in our two outstanding restaurants that serve a variety of international and comfort foods"

Puneet Singh
We take pride in our two outstanding restaurants that serve a variety of international and comfort foods. Additionally, our spa is a highlight, featuring indoor and outdoor treatment rooms. Both rooms cater to couples or individuals, whereas the outdoor ones provide an extraordinary experience at the edge of the cliff, overlooking the canyon. We also have two spa pavilions outside for added relaxation.
At Alila, we welcome families with open arms and provide a fantastic play area for kids aged 3 to 16. This setup includes everything from PlayStations to arts and crafts, blocks, and Lego. In addition, we offer various leisure activities for our guests to enjoy during their stays, such as archery, geology tours, spa meditation, morning yoga classes, evening meditation sessions, and even full-moon yoga occasionally. Children also have access to indoor and outdoor activities to keep them engaged.
For business needs, we have a small boardroom accommodating up to 30 people, complete with a nice library attached.
The hotel premises span over an extensive area of approximately 200,000m², featuring hiking trails that take you on a 90-minute butterfly trail, allowing you to explore the resort's cliffs, wadi, and gardens where we grow our own vegetables. So, there is enough to do even for longer stays.
As mentioned, Alila has many amenities for families as well and family tourism is very popular in Oman, Saudi Arabia, and other countries. Besides these amazing amenities for children, what other types of guests are you looking for, and what can you offer them?
Puneet Singh: Jabal Akhdar caters to two main sets of clientele. Firstly, during the winter season, which spans from the end of September to the end of April, we welcome long-haul European guests who often visit Oman as part of their tour itinerary. They typically spend a few days in Muscat, a day in the desert, and a few days in the mountains – as couples or families. In winter, the weather here is fantastic, making outdoor activities like hiking, exploring trails, and engaging in our signature activity, via Ferrata, very popular. Of course, our spa is also a sought-after indulgence during this time. Some guests choose to simply unwind, relax, and enjoy our spa, pool, and dining options repeatedly.
"It's important to highlight that Alila, Jabal Akhdar, is the only high-altitude luxury hotel in the entire GCC"

Puneet Singh
On the other hand, during the summer months, our clientele mainly comes from the GCC region. It's important to highlight that Alila, Jabal Akhdar, is the only high-altitude luxury hotel in the entire GCC, situated at around 2000m. This unique location offers a refreshing escape, as we are at least 15 degrees cooler than any major city in the GCC, and sometimes even up to 25 degrees cooler. This makes our resort a perfect retreat for families seeking relief from the summer heat. Nowhere else in the entire GCC offers an experience similar to Alila due to our location.
Many Omani residents and citizens, as well as GCC expatriates and locals, visit us between May and September. UAE residents can reach us in just five hours from Dubai, while visitors from Qatar, Kuwait, and Saudi Arabia often fly in with their families during the summer school holidays. They come to enjoy a relaxing three to five-day break, opting for a pleasant staycation instead of traveling to Europe, for instance. So, these are the two main types of clientele that we welcome throughout the year.
The privilege of Alila's territory and location is incomparable in the region. However, in the mountain area, there are some competitors. How would you describe your amenities and hotel in comparison to what your competitors offer?
Puneet Singh: There are three international brand hotels in the mountain area, and while the other two are nice with good standards of service and quality, they lack a distinct connection with the mountain. One of our competitors, an Asian brand, could be located anywhere in the world, as their building and rooms have a standard design. However, at Alila Jabal Akhdar, we took great care to ensure that our structure seamlessly blends into the natural surroundings. The outer walls are made of rocks from the mountain itself, allowing the hotel to harmoniously integrate with the topography.
Visitors often express that Alila Jabal Akhdar can only be experienced at this specific location. We, the designers and the project architects, took a lot of effort to retain that, to make it appear as if this structure is a part of the mountain.
"Sustainability is a core focus for us"

Puneet Singh
As part of the Alila brand, we take pride in offering sustainable upscale luxury. Our interiors draw inspiration from the forts of Oman and are manufactured within the local communities of Bala Nizwa and the mountains. Many artifacts found in the rooms are from the surrounding area, promoting community involvement. Sustainability is a core focus for us. We procure many items from the mountain and Nizwa, ensuring a connection with the local resources. We have also made great strides in reducing plastic waste, and nearly 99% of our hotel is plastic-free. Additionally, we produce our own water, both still and sparkling, aligning with our brand ethos of sustainability.
While some of our competitors do make efforts towards sustainability, it is not an inherent part of their brand ethos. For us, it is deeply ingrained in our identity. The combination of our unique architecture and location sets us apart from the rest. It wouldn't be fair to say there is no comparison at all, but our property truly belongs to the mountain and complements its surroundings in a way that cannot be replicated elsewhere.
Regarding the hotel's location on the mountain, what if guests want to arrive there but face difficulties in reaching the top? Do you offer any assistance to such clients?
Puneet Singh: The government has imposed restrictions requiring the use of 4×4-certified vehicles to reach the top of the mountain. This measure is in place to ensure passenger safety, as the inclines are quite steep. Ordinary cars might overheat while ascending or face brake issues when descending. So, clients who own 4×4 vehicles, whether in Muscat or elsewhere in the GCC, can drive up on their own. Many guests from the GCC choose to drive up during the summer months. For international visitors who wish to explore Oman by road, we have European guests arriving in self-drive 4×4 vehicles as well.
"They can be picked up from anywhere in Muscat for added convenience"

Puneet Singh
However, for those who don't have access to a 4×4 or prefer not to rent one, we offer pickup services from anywhere in Muscat to the resort and back, including from the airport. Additionally, we provide pickup services from the checkpoint, as beyond that point, a 4×4 is necessary. Many guests park their regular cars at the checkpoint, and we shuttle them up to the resort. In summer, we also offer home pickup services, so guests don't even need to worry about reaching the checkpoint. They can be picked up from anywhere in Muscat for added convenience, of course, for a fee.
Another option we offer is helicopter services. Many VIP guests and businessmen use the helicopter services available in Muscat to reach the mountain. We have a helipad on our property, allowing guests to land just 45 minutes after taking off from Muscat. They can either travel back to Muscat by car or return by helicopter. This option provides a breathtaking view and a quick travel time of just 45 minutes, making it an excellent choice for those seeking convenience and a stunning journey.
With your expertise in hospitality and tourism, along with your international experience, could you please share how all those years of experience, including your work in other countries, inform your vision for Alila in Oman, particularly in Jabal Akhdar? Additionally, where would you like to see the hotel in the next five years?
Puneet Singh: I think that Alila will do well if Oman does well. Oman is undeniably one of the most beautiful countries in the entire Middle East, boasting not only breathtaking natural beauty but also a warm and welcoming people The combination of stunning landscapes, majestic mountains, pristine sea corals, rich history, and the inherent hospitality of the Omani people creates a captivating and fulfilling experience for visitors.
"Oman is undeniably one of the most beautiful countries in the entire Middle East"

Puneet Singh
Unfortunately, Oman is not as famous as some of the other GCC countries but it certainly holds immense potential. Currently, Oman attracts a significant number of clients during the winter season, but there are still untapped growth opportunities, especially in the summer months. Promoting Oman as a year-round destination is crucial, and educating people about the cooler temperatures, about 20 degrees lower, in places like Jabal Akhdar during the summer is essential. If there are enough attractions in Muscat, then the tourists can go and cool off in the mountains. By encouraging travellers to combine their stay in Muscat with a refreshing mountain retreat, we can attract more tourists during the summer and spread the word about the diverse attractions Oman has to offer.
Improving tourism opportunities and activities, particularly during the summer season, will not only benefit Alila but also contribute to Oman's overall tourism growth. It is important to emphasize that Oman is not only an attractive destination in winter but also in summer, where visitors can witness mesmerizing waterfalls in places like Jabal Akhdar, even in May. If we don't do that, then prices in winter will keep on increasing due to increased demand.
"Summer in Oman brings forth a unique charm, with waterfalls flowing through the mountains of Jabal Akhdar"

Puneet Singh
Some clients may perceive Oman as an expensive destination, but it's essential to shift the focus to the incredible experiences it offers, especially during the summer season. Summer in Oman brings forth a unique charm, with waterfalls flowing through the mountains of Jabal Akhdar, as I mentioned earlier. Witnessing these natural wonders in places like Jabal Akhdar during May is truly awe-inspiring and a testament to the country's beauty.
Salalah, with its renowned Khareef season, is a fantastic destination during the summer as well. However, I firmly believe that Salalah can be enjoyed throughout the year, making it a 12-month destination. We have another Alila property located on the beach in Salalah, offering guests a captivating coastal experience.
I believe the best growth opportunities, specifically referring to Alila, will arise during the summer, promoting Oman as a summer destination and encouraging people to visit the mountain and enjoy its beauty even in the summer heat.